OMG a new blog post!! Get me!
Ok, truth be told this was going to be a vlog rather than a blog but here is the thing: Helen is a bit dim sometimes. Today I went to pick up my friend ready to go to Art on the Prom, an event in my town. As I was running late I simply ran out the door and decided to get ready when we got back. As I was leaving with my keys in hand I realised my mum's car was blocking me in. Without thinking I changed my keys for hers and went off. I didn't realise until I got back and got out of the car that my cay key had no house key attached: no hairbrush to do my hair, no suncream for my burnt nose, no purse to buy a drink and of course no camera. Duh.
Anyway I am looking forward to writing this blog now. There is something about writing a blog that is therapeutic. And you can review it without having to cringe about the wrong camera angle where you can clearly see right down your own top or realise that the bags under your eyes have their own bags etc. No. Writing is nice. And there is much less chance of ramble than when I vlog.
I am going to warn you now that if you are not interested in art then this blog is going to be pretty dull for you. Art on the Prom is an annual event in my town and it is pretty much as it sounds. It is the prom at Felixstowe with art along it.
Imagine the scene. A long prom – the sea air filling your nostrils with the smell of salt and seaweed – the art on specially erected railings with the backdrop of the North Sea, framing the picture with gentle waves – the beautiful sounds of crashing waves as you take in the talent of the local artists ... I was imagining this too. What was really there was stormy sea and high winds. The artists were clinging onto their work for dear life! But I still had fun. I guess it added to the atmosphere.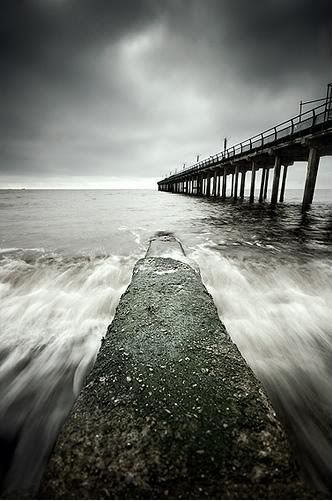 My favourite artist of the day was actually a photographer; Liam Frankland. The work displayed to the left actually shows the dullness of Felixstowe weather yet still captures its beauty. I love this picture because the long exposure making the smooth texture where the waves are breaking is so clever. The pier and groyne are drawing your eye to the sea but the smooth break brings it back in, echoing much more effectively how the sea moves than capturing a wave mid-break. It's title is 'incoming-redux' which obviously fits this.
Anyway I urge you to go and have a look at his
flickr account here
. On the second page there are a beautiful picture of the Suffolk countryside. Let me know what you think of him in the comments. I just think he has a eye for composition, texture and tone. A lot of artists try and achieve ths kind of look in photography but I think he is one of the best I have seen.
The rest of the artists I mention just happen to be ones that had websites that I knew of but I have picked out examples that show you a bit about where I live. Andrew Gibson is an illustrator living in Suffolk. This picture he did as part of the Art of the Prom collection. It shows a famous landmark of the Felixstowe prom – the Peter's Ice Cream hut! You can view more of his work at
his website here.
You can also look at his page on the Associaton of Illustrators website
here
. He does a lot of work based on the current times commenting on things like commercial culture, modern politics and mass crowds. Worth a look.
Another photographer that caught my eye, although in a different way from Liam Frankland, was
Pickle Jar Pictures
. Looking through the online albums this photo particularly caught my eye. Humans rely on the horizon to give them grounding and understanding on both a concious and subconcious level. Think of when you are flying and the plane turns - if you are looking out of the window the horizon suddenly changes from being straight in front of you to off in some other direction. It is bizarre. This is why I love this photo. You can't tell where the sky ends and the sea begins. It looks like the sky has fallen down almost! Intriguing.
Have a look at the Pickle Jar Pictures 'Felixstowe' album. They are simple and honest views of Felixstowe. But by choosing these shots on these days they are paiting a somewhat romantic view of our beach.
See what you think here
.
There were also quite a few sculptors at the event. Sculpture is the one artistic skill that I really wish I could do. As it happens I have no talent in it whatsoever - or ratehr I have never had a porper opportunity to explore my talents in this area. I have designed sculptues before on paper. But without the necessary knowledge to make them a reality on paper they will stay.
Side note - I am hoping to begin a sculpture evening class in the new year. So you never know! But to be honest I think I could only manage easy materials like soapstone. Metal and wood, while super fun, would probably tire out my joints ridiculously. Although I would never let that stop me from giving it a go!
This sculptor
Patrick Elder
isn't my favourite. But he is the only sculptor whose card had a web address on it. This piece, made with oak and bronze is called 'avarice'. The title coming from the upward growth of the natural wood and the very polished, well finished service alluding to upward mobility and grandeur.
So lastly there are the crafts i.e. things that normal people like me can afford to buy (when they don't lock their money in their houses). The pictures here come from
Driftnet Arts
(above),
Kluck
(below) and
Milliefiori
(right). My favourite display had to be Kluck because they had Marvel comic wallets. I mean come on people! What could be cooler? It is probably a good thing I didn't have money. I would have ended up coming home with 20 new pairs of earrings and at least 5 things I have no use for whatsoever. Maybe the money gods were watching me?
All in all it was a good afternoon despite my stupidity. I just wish the weatehr were nicer so I could spend more time there. My semi-lasting memory of the day will be my henna tattoo which I will quickly tell you about. So this lady was doing beautiful hennas and my friend and I decided we wanted one. We looked through the books and found some really georgous designs. Then as a joke we looked at the childrens books. Of course being me I immediately wanted everything in the kids' book - my eyes lit up and a grin spread across my face. And I now have a tattoo of a hippo on right arm. Of course it wasn't till mid-way through the henna that I remembered that in the 1-4 weeks they last I will have to go to my professional job. Oops. You can see it on my
Daily Booth
.
Anyway leave me your comments on what kind of art you like and what kind of stuff goes on in your area.